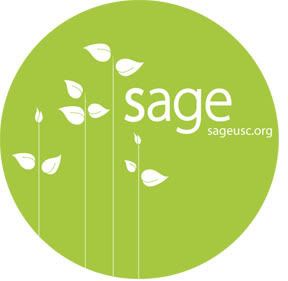 Hey everyone! Welcome to Students Advocating a Greener Environment! SAGE is the general-interest environmental student group on the USC campus. We work to promote environmental education, awareness, and activism on campus and in the community. It's fun, locally relevant, and locally effective.We have been fueling positive change at the University of South Carolina since 1996.SAGE also hosts the annual Earth Day festival on Greene Street, attends state and national conferences like PowerShift, and is a link between other state environmental programs (in Clemson, Winthrop and the College of Charleston). We're working to coordinate student efforts across South Carolina, so get involved!
In the past we've worked to improve recycling on campus, reduce the amount of Styrofoam in the dining halls and institute a Student Sustainability Fund. We have attended conferences like PowerShift and the Southeast Student Renewable Energy Conference, and we're active members of the Palmetto Environmental Action Coalition.
This fall, we will be focusing on sustainable food issues through a combination of education, service to the community and collaboration with Carolina Dining. For the spring semester, we'd like to look at energy issues on campus (particularly that nasty habit of not turning off lights when people leave the room!)
Interested in learning more or have another environmentally-related issue that you'd like to address?? Come check us out! We love new faces from all majors, and there are no dues to join.
Bi-Weekly meetings at 8:00 pm on Tuesdays in the Green Quad's Learning Center, Building D. We're always excited to see new faces! See the calender for dates. And if you miss meetings you can also check the calender for that meeting.
Browse our Web site for more information about SAGE. If you have any questions or would like to join us please shoot us an e-mail at SOSAGE@mailbox.sc.edu – we'll get back to you ASAP.
SAGE
University of South Carolina
Green Quad Learning Center for Sustainable Futures (Bldg D)
Office 108
Tel. 803 576-8004
SOSAGE@mailbox.sc.edu